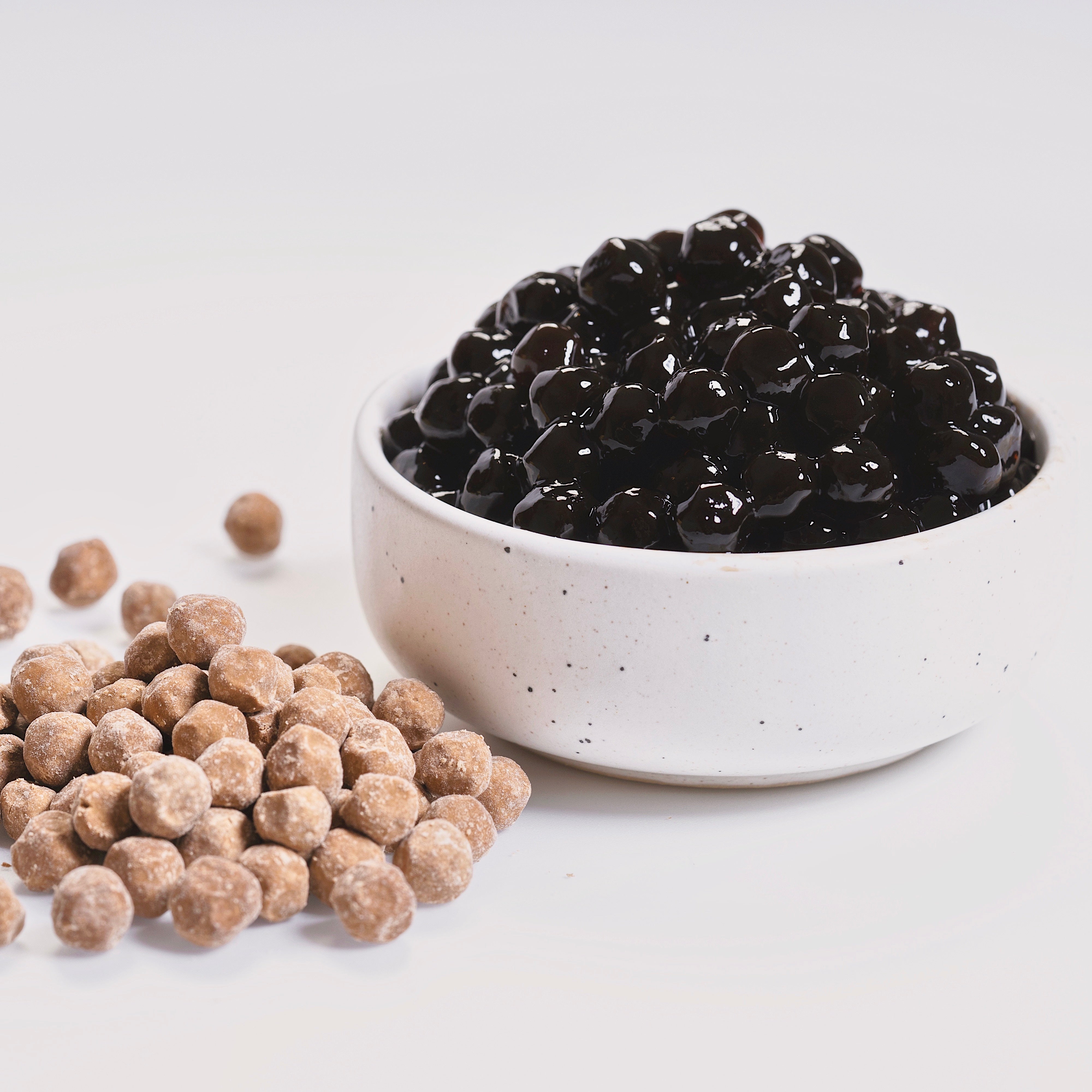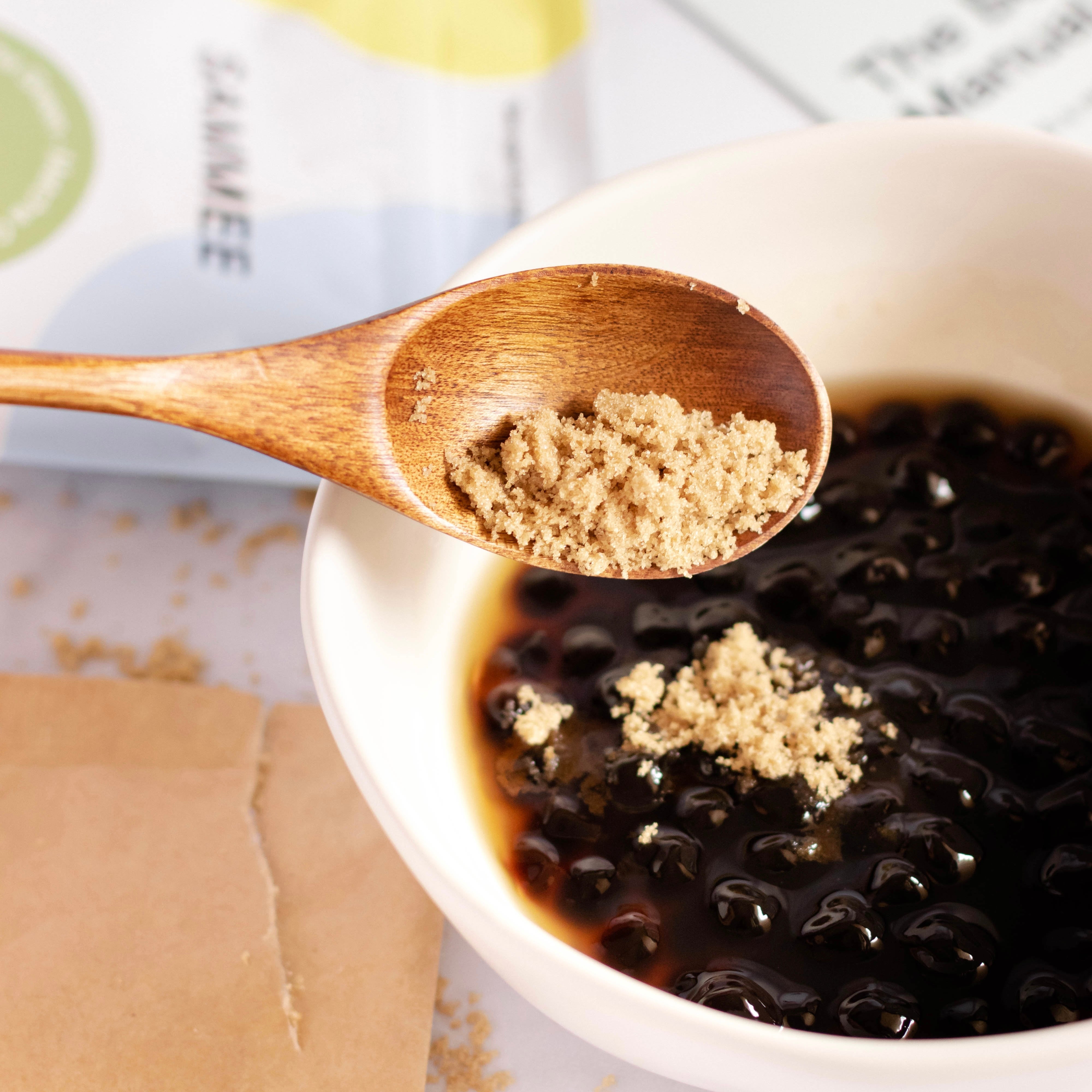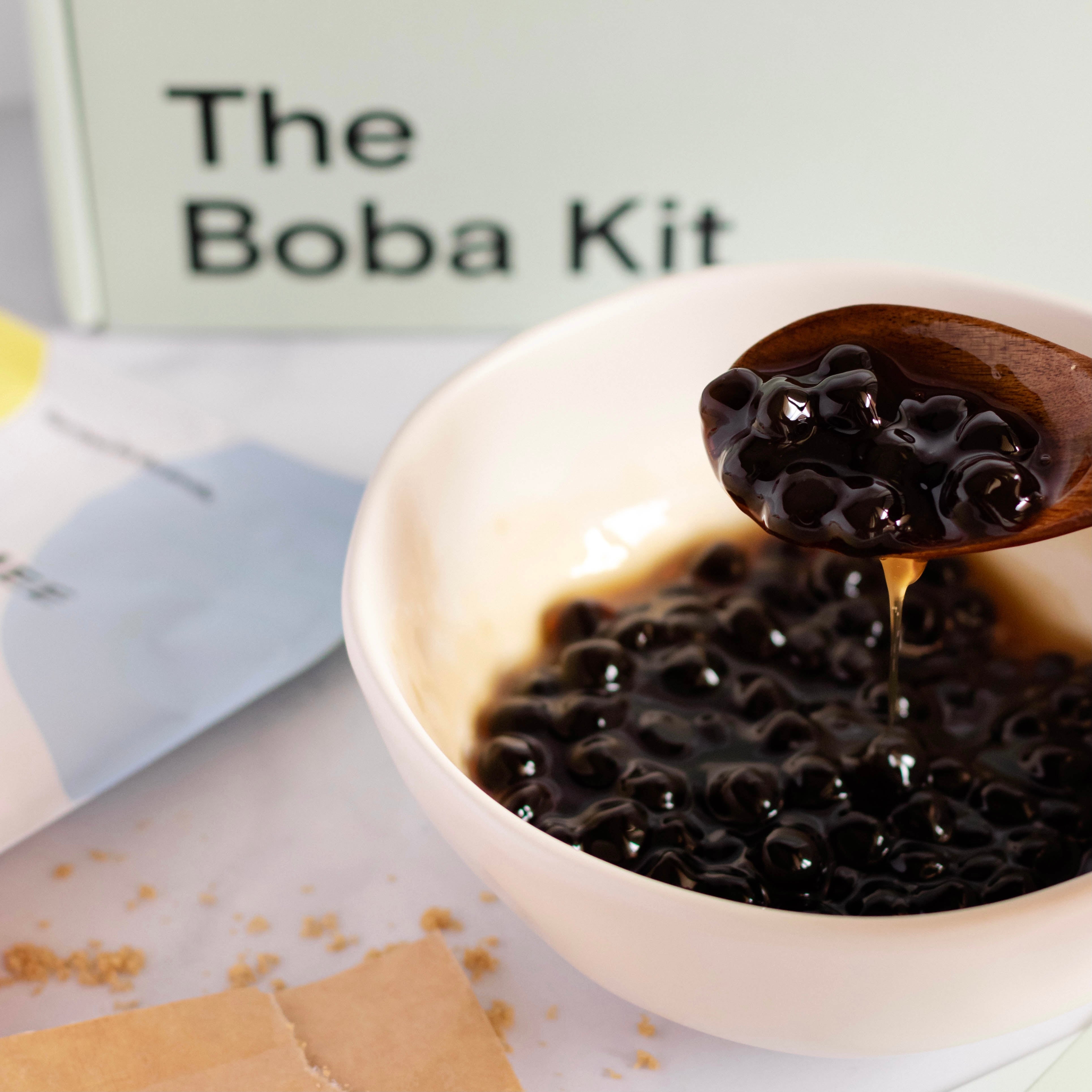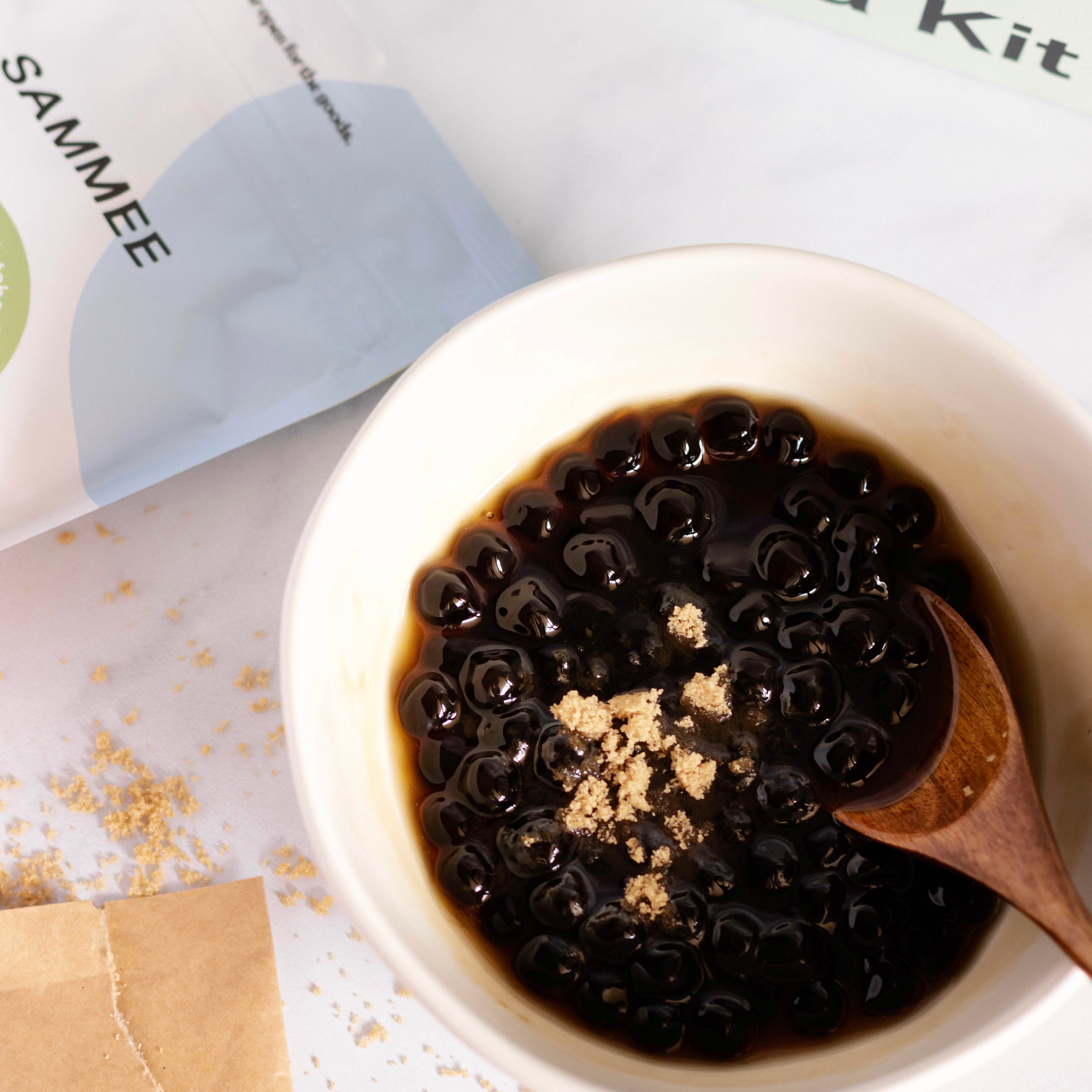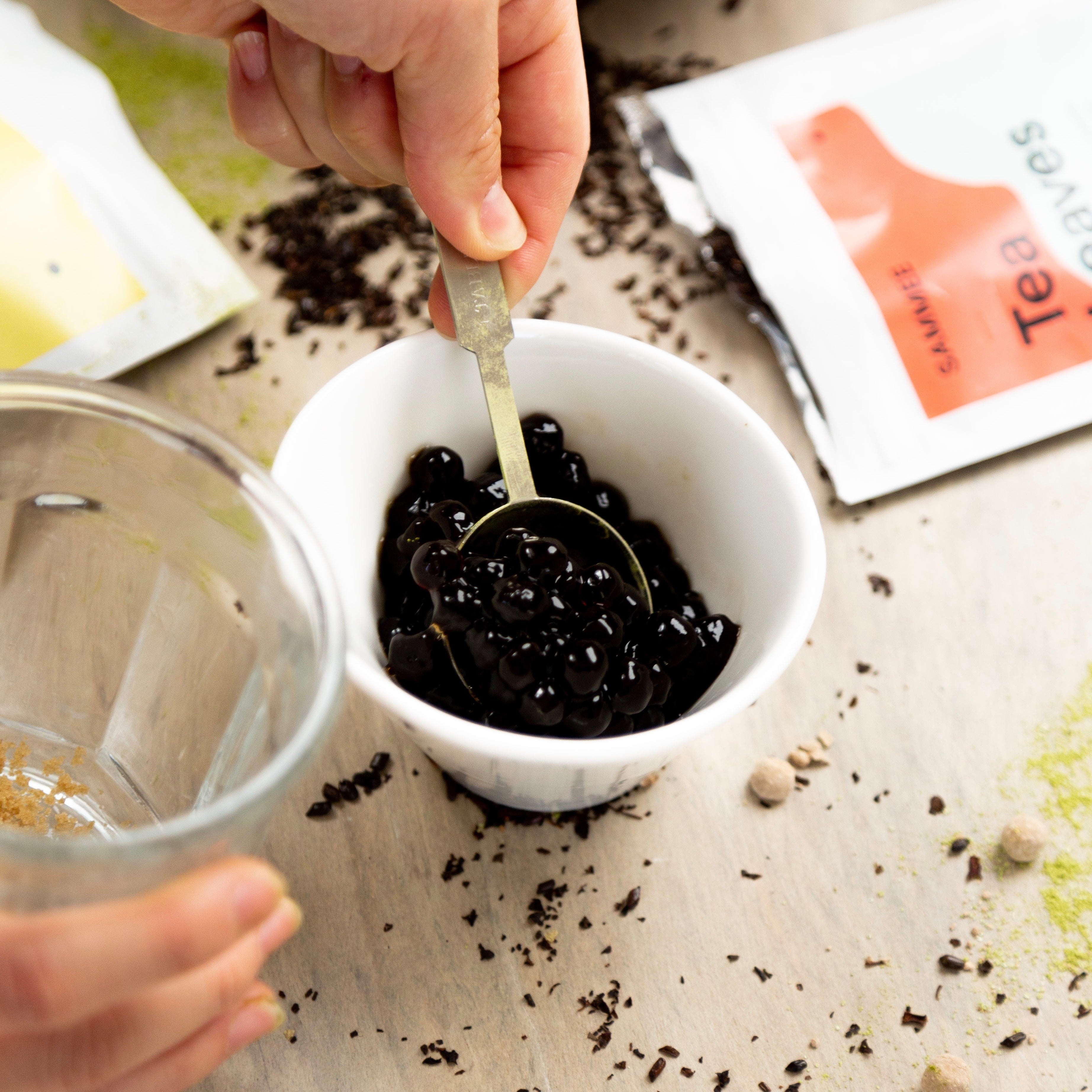 Boba is a chewy, ball-shaped treat that can usually be found at the bottom of bubble teas and are typically consumed through a wide straw. They are also commonly known as bubbles, black pearls, or tapioca balls. Boba is made from the starch of the cassava root and serves as a fun and deliciously sweet addition to any beverage. 
12 oz. bag of Boba

Packaged inside vacuum-sealed bags to ensure freshness
Makes approximately 10-12 servings of Boba
BOBA DISCLAIMER:
Store any leftover uncooked boba in a sealed and airtight container in a cool/dry area. Do NOT store in the fridge. Do NOT eat silica gel packets.
Once opened, uncooked boba will last approximately 1 week. Once cooked, boba will only be good for about 6 hours. Do not refrigerate.
Customer Reviews
I-Yao W.

United States
06/27/2021
Delicious and easy to make
Came with clear instructions. Easy to make and delicious. I appreciate the small packaging because it keeps the pearls fresher
Nicole N.

United States
06/16/2021
Amazing!!!!
Best boba ever!!!!
Shirley R.

United States
04/03/2021
Cute Little Kit + Extras
This was the request of my 8, soon to be 9yo granddaughter. Well, not this exactly; she send me pics of the items to made bubble tea. I'm so glad I found this complete kit all packaged and ready to gift wrap. I'm so pleased with this purchase, and the products arrived in such a quick time it was almost unbelievable. Thank you
Geena D.

United States
03/29/2021
Yummy Boba Tea!
I love Taro boba tea! When I found out I can make it at home, I immediately had to order a kit! The directions are super easy to follow and the tea tastes amazing!
Katherine L.

United States
03/17/2021
Amazing
I love getting these delivered, my house makes boba every day!
Kaya M.

United States
01/31/2021
My fave!
Super easy to make, just takes a bit of time! Don't be impatient--make sure to let it soak in the brown sugar for a bit, otherwise it's not as sweet. I was impatient my first time and forgot haha and I could tell the difference when comparing it to the time I did it right. Perfect chewiness, and super yummy! Love being able to make MORE so I have a TON of boba in my drink, and not a stingy amount like some boba stores...
Suchitra P.

United States
11/24/2020
Great Boba
Wish they were packed for single servings
Gabriela V.

United States
11/12/2020
Amazing product
This store is my go to for tapioca pearls. I personally cannot find any boba where I live, and I had very bad experience with some tapioca pearls I bought on amazon, so I always buy my boba here. Very chewy and just delicious, I highly recommend it