Milk Tea Powder • 3 Pack Bundle
$32.00 $36.00
Bundle and save!
The 3 Pack Bundle comes with your choice of 3 of our various Milk Tea Powder Flavors!
Milk Tea Powders are an all-in-one mix of tea, non-dairy cream, and sugar for a ready-to-drink bubble tea that is as easy to make as it is to drink. Just add water or milk! This mix can be used to make iced, blended, and hot drinks.
Makes ~18 16oz. Milk Teas
PICK & CHOOSE:
10 oz. Classic Black Milk Tea Powder
10 oz. Earl Grey Milk Tea Powder
10 oz. Matcha Green Milk Tea Powder
10 oz. Taro Root Milk Tea Powder
Allergens: Milk, Soy.
Customer Reviews
James K.

United States
06/02/2021
Sooooo delicious and fun to make!
Directions were easy to follow, the result was delicious.
Sarah K.

United States
05/13/2021
So perfect
Just like the real thing! It was delicious and exactly what I wanted. I will say—I accidentally crushed some of the raw boba pearls because I didn't realize they were so fragile. A heads up might be helpful. And the metal straw was kind of huge and hard to use. But the product itself was amazing.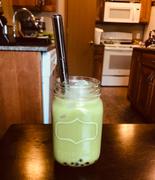 Alex A.

United States
04/24/2021
So dang easy and delicious
This was so easy! The only hard part was making sure I had a whole hour for the cooking process. Me and my husband loved the taste with 2% milk and loved it iced. My only complaint was a that the boba are very small and you can easily **** up most of your boba very quickly. Perhaps some bigger boba in the future but other than that, we would def order again!
Nayana N.

United States
04/22/2021
Tastes exactly similar to the tea bought from commercial shop
My sister introduced me to Taro tea (bought from a commercial shop) and I instantly loved it. I was looking for buying a packet without Bobba and came across this shop from instagram. I ordered the Taro tea packet (with a metal straw) and it tasted exactly like the one I had . What's more? I find this packet including shipping to be more cost effective (3 cups already consumed, suspecting 10+ cups from single packet) than 10 cups bought from shop! I look forward to buy another packet after this one finishes!
Geena D.

United States
03/29/2021
Milk Tea Powder Kit
Great! I loved it!
Sharida P.

United States
03/27/2021
Happy Sammee
Excellent, I am so happy to be enjoying my favorite drink in Virginia! I'm from Hawaii and drinking my Ube in Virginia makes me so happy!!!
Lesley C.

United States
03/24/2021
Amazing Bubble Tea
I'm absolutely obsessed. The Earl Gray is definitely my favor, but all of them are excellent and so much cheaper than buying at a store.
Eunjin B.

United States
03/13/2021
AMAZING
I bought taro, earl grey, and milk tea flavor and they are all so good. The only thing I wish is having yogurt smoothie powder as one of the choices for this bundle.